Colleagues:

It was a great gathering in Orlando last month: conferences, classes, banquets and above all friends.

I was invited to address a meeting of engineers whose topic was "Acquisition, Tracking, Pointing, and Laser Systems." I sat in a dark room staring at a bright screen and listened for two hours to electrical engineers talk about stabilizing lines-of-sight. They all showed amazing slides of flow diagrams and control systems: resolvers, torquers, Bode plots, gyros, transfer functions, encoders, phase margins, accelerometers, amplifiers, feedback loops, etc. Not one single slide showed a line-of-sight, an optic, a laser beam or a target.

I was last on the agenda. I opened by pointing out that lines-of-sight and laser beams were real physical features, just as real as the axis of rotation of a gyro. Then I demonstrated a way to link the lines-of-sight of imagers and lines-of-propagation of lasers to inertial sensors through elastic behavior of finite element models. Then I showed an analysis in which the rms error between the gyro and the laser was about twice as big as the gyro's rms error itself. "Was the laser-to-gyro error in their budget," I asked, "or in the optical designer's?" "What about the imager-to-gyro error?" The audience seemed to have some difficulty answering my queries and also some framing their own, but they were very gracious. We shook hands and then, suddenly it seemed, I was outside standing in the warm Spring afternoon sunlight. Perhaps I'd been impertinent.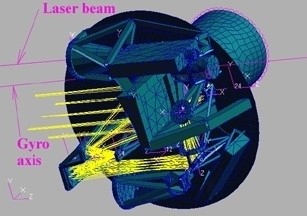 A week or so later, back in the office, I received an invitation from the engineers to publish my remarks in their prestigious journal, The Journal of Applied Remote Sensing.  I guess I was not too impertinent.  It's a fine balance;  someone has to identify the possibility, tickle the imagination, "stir the pot" and, sometimes, "serve the first dish".  I've accepted this invitation too.
I have one relic from the event to commemorate it. That's the slide of mine showing a laser beam and an IR imager coupled to a gyro's axis of rotation through a finite element structural model of a sensor suite.
It was in deed a great gathering in Orlando last month. And, ahh… the friends! Thank you all.

Now… Summer is nigh. Get out the sun-block and water skis.

Enjoy!

Al H.
5-31-11